Bespoke, adj. (of goods) Made To Order.
Sometimes the item you're looking for, or needing to find simply is not available in the configuration you want it, no matter how hard you search. That's where a bespoke creation comes into its own.
There's no rules when it comes to wants in this area, constructed from anything you can think of, and designed to do a specific task, bespoke creations can be extremely personalised to become truly one-off creations.
Working with Amart Furniture this past year, I've created several bespoke items for use in their marketing campaigns.
This mobile island bench is mounted on castors to allow ease of movement, and is designed to have the top lifted off and exchanged for one of three different colours on hand to suit the theme of the image required.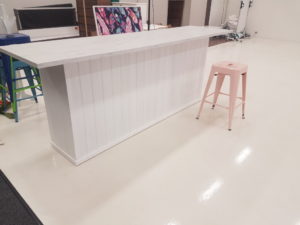 For an outdoor theme being created, the brief was to construct a three-metre square gazebo, that had to be able to be dismantled and stored easily, constructed with interlocking joints, this amazing piece is assembled in under five minutes with just two people.
Working with John Smits from Parade at Wilston was an amazing experience, having the complete design printed to work from, requiring lots of individual pieces being made.
John's grand counter is my favourite piece, continuing the symmetrical theme of his luxurious gift shop, with repeating squared panels and linear surfaces it looks beautiful, and is captivating to the eye.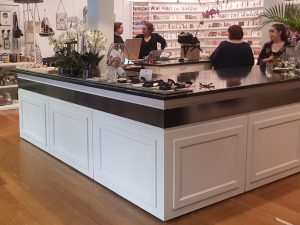 When Anastasia from Mood Design's sister was getting married, she searched for a wedding cart to be in the bridal party, but there was not one to be found in Brisbane. With a few online images and a short consultation, her bespoke wedding cart came to life.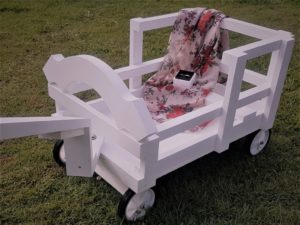 Nandie and Matt from Rezolution Photography needed an interior set built for a wedding expo they were attending in Brisbane. Built on sheeted timber frames, bathed in paint and framing, their drab expo site became a beautiful space.