Join the Parade, at Wilston
Offering luxurious gifts, homewares and fashion, Parade at Wilston has become the local outlet when looking for that special something.
About the project.
The space occupied by Parade was formally a similar style gift store, so a continual effort is made by the team at Parade to convey to customers that the space they have entered has undergone not only a physical change, but also a style and mindset change. Parade has an open floor plan with adequate space, including a side area ear marked for future transformation to a learning space.
The brief.
To work from designer constructed plans to construct a clean and luxurious retail space, ensuring the detailed design came to life in mirrored form.
The solution.
'Arctic Mist Suede' was applied with a wide brush to the roof, and continues down the walls to the decorative framing, creating a grand feature. The front half of the space still has original 'popcorn' coating and would not produce suede effect, but the existing framing in 'White on White' creates an amazing architectural affect.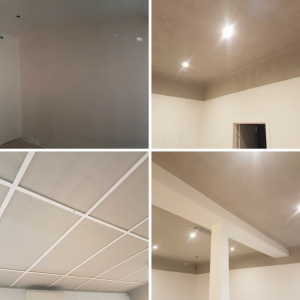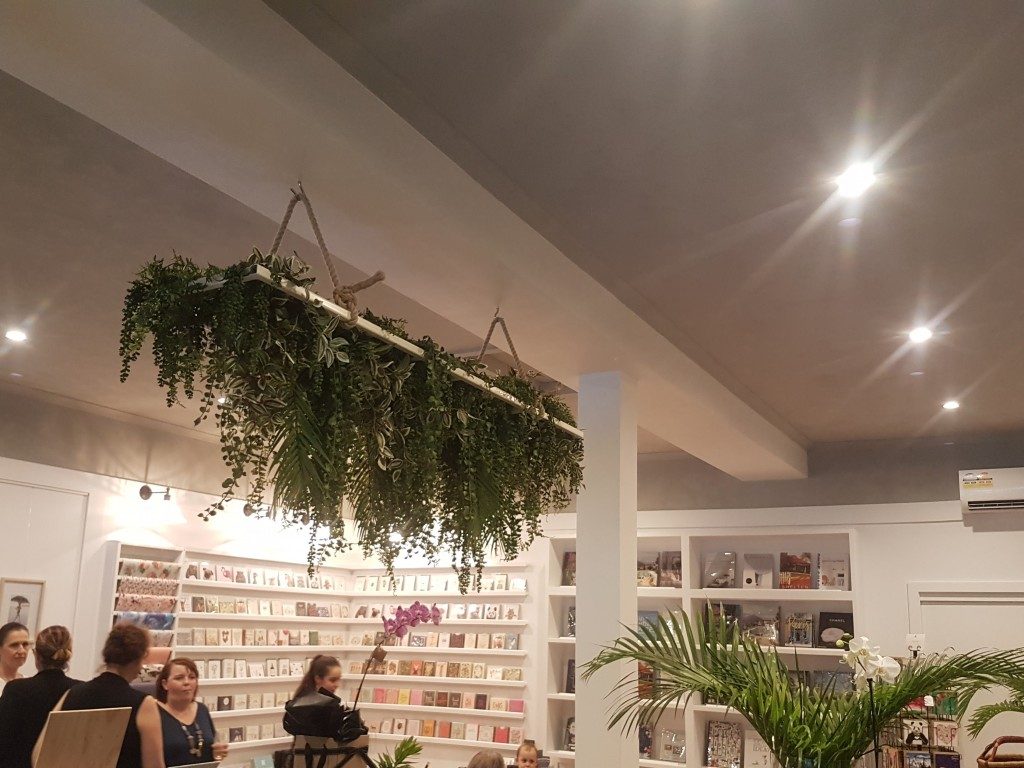 The feature bulkhead and return walls were hung with luxurious wall paper imported from London, completed by Brisbane paper hanger Roger Barnsbee.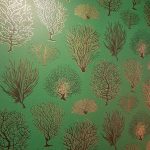 Construction and installation of bespoke card shelving and book casing was next to be completed, a feature display point needing precise construction and alignment.
Pine timber framing covered with framed MDF doors all in 'White on White' hides a full length floor storage area, and adds to the available display area, continuing the symmetrical lines right to the floor.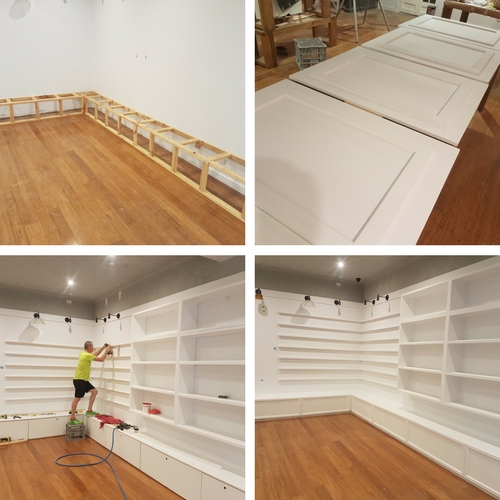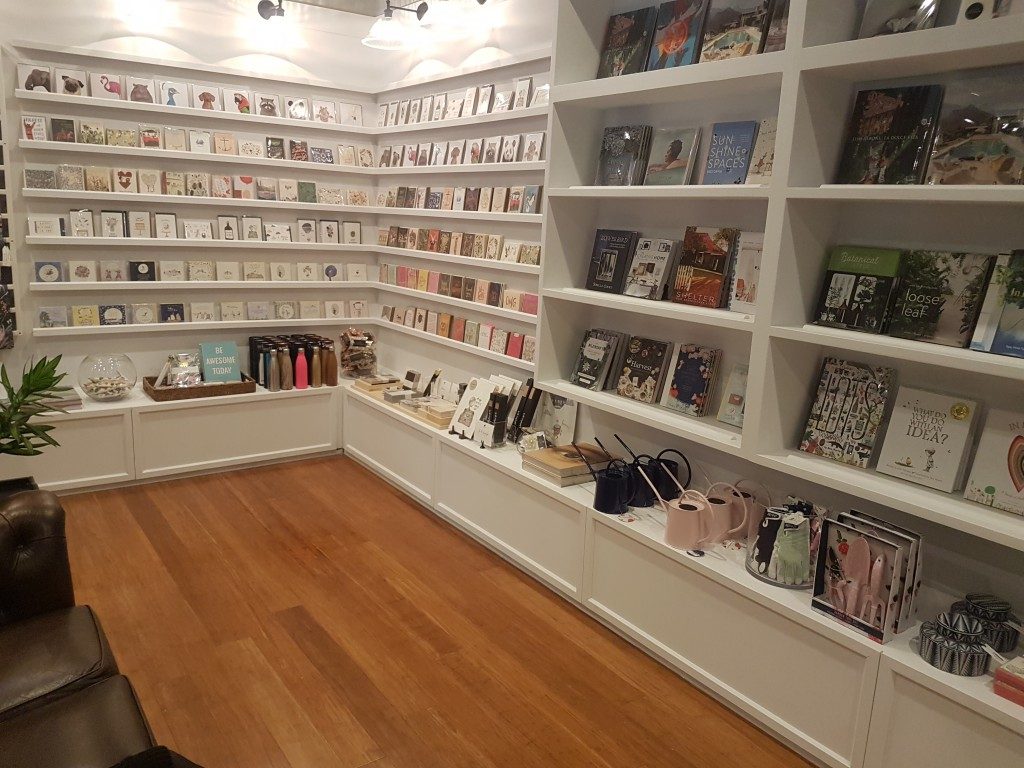 Creating an easy thoroughfare to what's currently storage space and their future learning room, the installation of a pair of beautiful recycled French doors in the dividing wall between the showroom and storage areas being opened to allow the installation of the framing and set.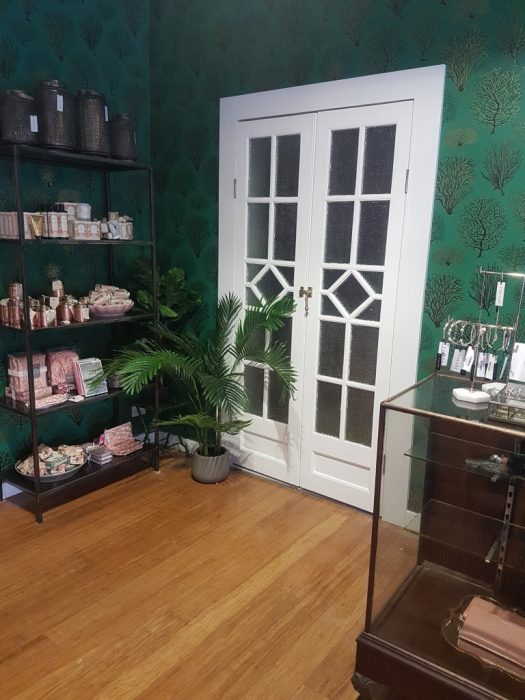 The statement piece of the transformation was designed to be the counter, as the central sales and reception area, and with a ten square metre footprint it's the first thing that is seen upon entry. The counter design is a combination of mitred timber frames and metallic laminate sheeting, all wrapping the existing melamine carcass, and bathed again in 'White on White'.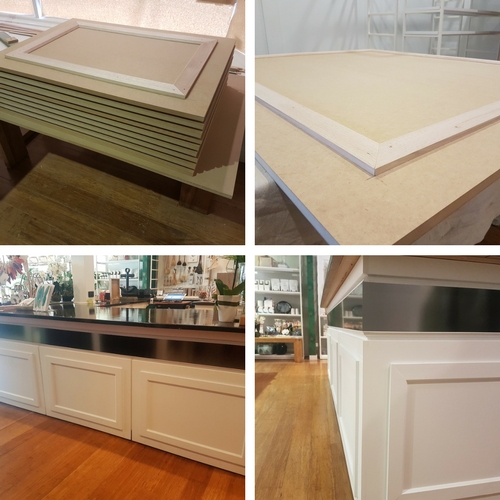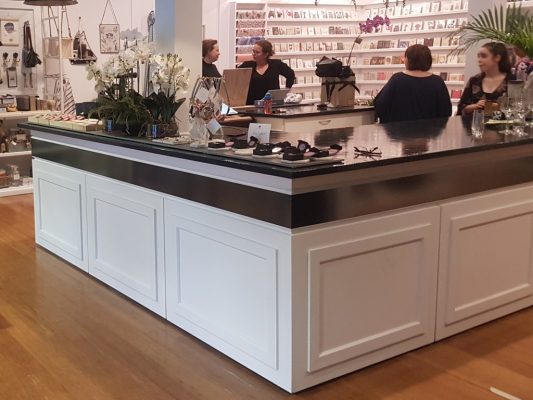 Once the internal shelving units had been constructed and installed, the final major task was the shop exterior. After an application of new weatherboard cladding, it was time to apply a fresh coat of paint.
'Sea Mist' coloured boards with 'Black Caviar' trim paired with doors in 'Grasshopper Green', complete a façade that combines modern and grand, suits both the building style and the business within.
The roadside awning was then refaced in two hundred hand cut merbau slats, all pre drilled and individually screwed into place and bathed in 'Sea Mist' to recreate the historical tone of the space.