Miss Kay's Burger Bars Brisbane
Labelled by The Good Food Guide in 2016 as 'Arguably the best burgers in Brisbane', Miss Kay's Burger Bar has grown to three locations, including Mitchelton, Brisbane CBD, and Little Miss Kay's at Woolloongabba.
About the project.
Mitchelton's Miss Kay's Burger Bar on Blackwood Street, is an open plan full sized venue, with both indoor and outdoor dining areas, including a large footpath licensed area.
Woolloongabba's Little Miss Kay's on busy Logan Road is a shop front only, with no dine in facility and a pickup service only, minimum available space needing maximising.
The brief.
Mitchelton, create a vertical lattice wall framing the outdoor eating area, allowing the creation of a separate multi-functional area.
Woolloongabba, the creation of a throughway in an existing non-structural wall, allowing common-sense staff movements and increasing productivity. Project requiring completion after trading hours, during close.
The Solution.
Mitchelton, I used soft edged lattice and structural timbers that blend in with existing features, combining structural stability with timber look to avoid any potential future maintenance issues. Fixtures and fittings were all galvanised to ensure outdoor longevity, and any potential rust issues. The lattice framing is multi-functional, either for hanging gardens, multi media display, or performance backdrop.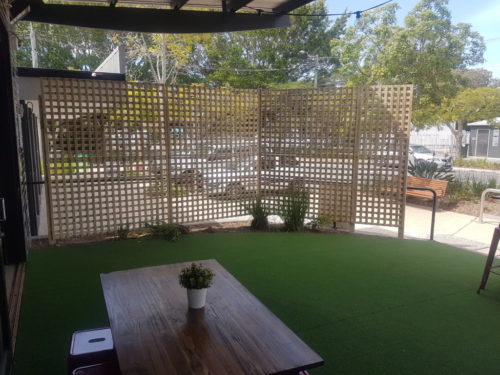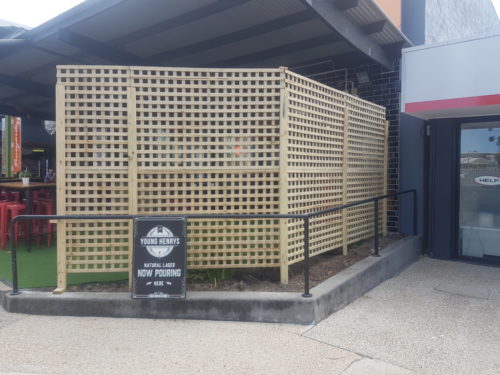 Woolloongabba, the removal of in place power outlets was initially completed, allowing removal of wall material, and insertion of timber framing, paint, and sealing to ensuring compliance with wet area regulations. This walkway has completely changed the foot traffic plan onsite, allowing complete front area reorganisation.