Love Your Outdoor Furniture And It Will Love You Back
It's autumn now, that time of the year when we start to spend less time outdoor, and more time inside.
While we are inside, all our outdoor furniture and items are still exposed to the elements, and because a lot of them are timber construction, they're at the mercy of the colder climate.
So now's a great time to get in before the cold and apply some TLC to the outdoor furniture, and it will be ready for next spring and still in great shape.
The table pictured had a giant candle sat on it's surface, which melted in the sun. The wax dripped down between the planks, and the oil soaked in layers deep, it was an eye sore.
First things first, the table and eight matching chairs were treated with an oil and stain stripping liquid, allowed to soak, and then pressure washed clean. The results were fantastic, and the setting was given a week to dry.
The next step was to apply a suitable finish, the owner liked a water based furniture oil, and when I can I always apply this type of finish with a spray gun, it's much faster than brush, and provides a fantastic result.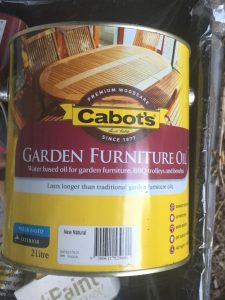 Cabot's Garden Furniture Oil
As you can see the result is amazing, the entire setting looks better than new, and the owner just loves it.
The quality of this finish ensures the life of the timber, and extends the number of years service that it will provide.
If you love your outdoor furniture, it will love you right back.
If you need help with your outdoor area, let me make your space all you dream it can be.